Horsemen & Knights
sun20feb15:00sun19:00Horsemen & KnightsEagle Amsterdam, Warmoesstraat 9015:00 - 19:00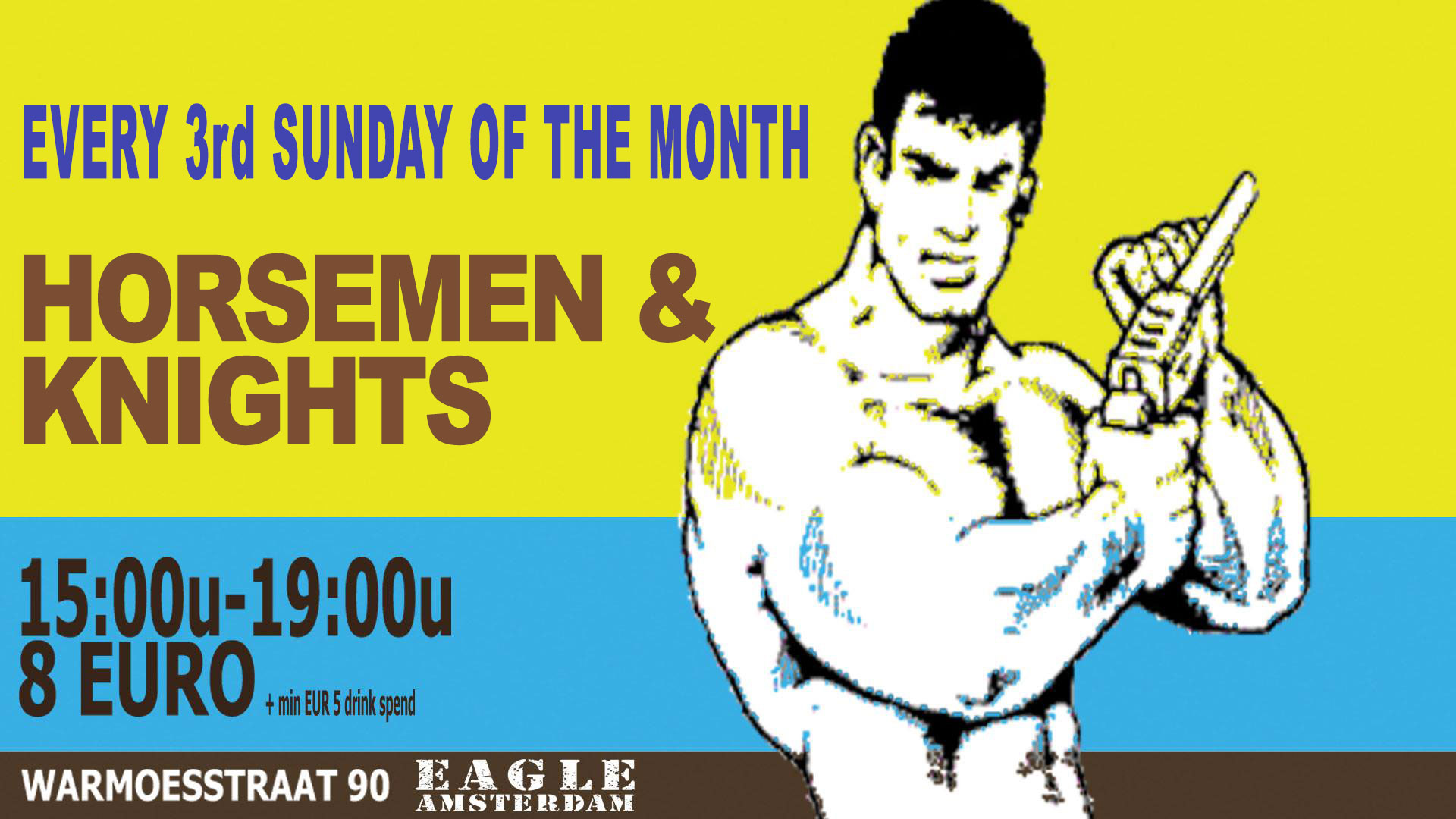 Event Details

The Horsemen and Knights (H&K) is an informal club that organizes monthly safe-sex parties for well-endowed men and men who get really turned on by big cocks. The monthly safe sex parties for Horsemen and their admirers are held every third Sunday of the month in THE EAGLE, at Warmoesstraat 90 in Amsterdam. The doors are open between 15:00 and 16:00 hrs. The party begins at 16:00 hrs. and ends at 19:00 hrs. There are usually about 75-100 visitors each time.

Naked and partially naked men (there is a secure clothing check) can enjoy a drink, chat and have hot and horny sex, whether one-on-one or as part of a group. This can happen in a dark corner in one of the playrooms or, fulfilling any your exhibitionist tendencies you might have, in the open at the bar! Of course having sex is the whole idea of the party, but it is not obligatory. Voyeurs who would rather just sit at the bar and watch are no problem! You can live out almost all of your sexual fantasies as long as everything is safe and consensual. Condoms and lube are free and readily available. Around 5 PM free snacks are served at the bar! The entrance fee is €8.00. Horsemen, who are in the possession of a member's pass get in for free but are still responsible for their own bill at the bar.

You can become a Horseman if your cock is at least eighteen centimeters long. You can have your weapon measured at the party with a special 'peter-meter' If you are indeed 18cm or longer, you will receive a membership pass that entitles you to free entrance to all subsequent parties. Bring a passport photo along with you or e-mail one to us. Of course, guys with dicks under eighteen centimeters long are also more than welcome.
Starts at 15:00 till 19:00 hrs.
Every third Sunday of the month.
Doors are open between 15:00 till 16:00 hrs.
Entrance fee is € 8,00 (excluding minimal for EUR 5 drink spend). Horsemen with a membership get in for free.
Dress code: naked of underwear. Shoes are compulsory.
The Eagle Amsterdam is sincs 12 Oktober 2019 a smoke-free venue.
Time

(Sunday) 15:00 - 19:00